Join the biggest and most active Blockchain community in Chile!
Are you a beginner and want to learn from those who are experienced? Are you a blockchain, mining or trading specialist? Or maybe you are representing a company and want to expand your business in Chile?
You may join the Cryptotechnologies Chilean Association (aka Bitcoin Chile NGO) by signing up as Member, helping us teach others and spread the knowledge about cryptocurrencies and blockchain technology, as you receive benefits for being part of our network of volunteers, enthusiasts and companies.
WHY SHOULD YOU BECOME A MEMBER?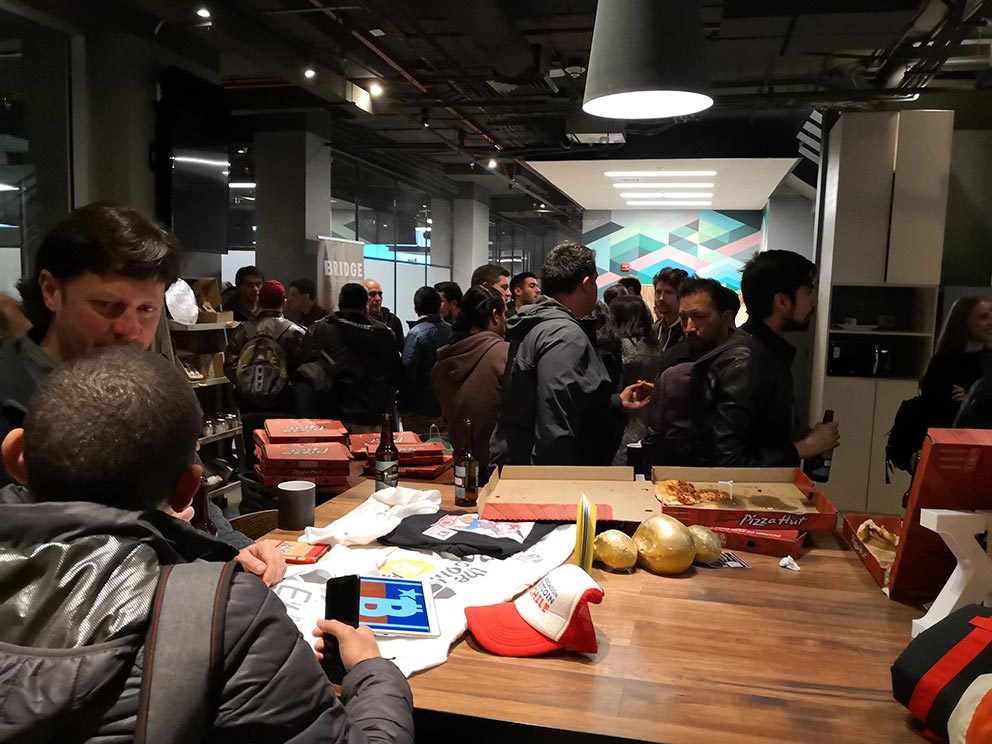 Benefits and special deals for members
Followers on social media
Frequently Asked Questions
What are the requirements to become Member?
Individual Member:
More than 18 years old, so he or she can fulfill the rights and obligations stated by the Association statutes.

Not have been condemn nor being actually prosecuted for a felony that deserves affliction penalty.

Signup on the Association website (achicrip.org), attaching the records, documents and information required on the website at the moment of registration.
Company Member:
Being established as a legal profit or non profit entity.


The member, stake holder or founder that is filling up the registration form must have a definitive power decision on the legal entity administration and also fulfill with the requirements to be Individual Member detailed previously.

Signup on the Association website (achicrip.org), attaching the records, documents and information required of the legal entity on the website at the moment of registration.
How much does the membership cost?
Memberships are annual from January to December, regardless of the registration date. Value depends on Member category:
Observer Node Member: 1UF
Complete Node Member: 2UF
Company Node Member: 10UF (5UF if it is Start Up)

UF (Unidad de Fomento) is a legal stable coin based on chilean inflation rate. Check UF value here

If you pay with bitcoin or ether, you'll have an additional 20% discount on the membership of your choosing, which is a lifetime lasting benefit as long as you pay with one of theses cryptocurrencies.
2nd semester 2020 values with immediate activation (40% off on annual membership, not accumulative with other discounts):
Observer Node

Member: 0,6UF

Complete Node Member: 1,2UF
Company Node Member: 6UF (3UF if it is Start Up)
What is the difference between the three memberships?
Members have been classified in three categories:
Observer Node Member: Beginner who has little knowledge on Bitcoin and blockchain technology. Ideal membership to join Bitcoin Chile and start to learn from others.
Complete Node Member: Active and experienced member that knows how to use Bitcoin and Blockchain technology. Ideal membership if you wish to actively support Bitcoin Chile's activities, take part, brainstorm, and vote decisions.
Company Node Member: Organization which is considered a Donor Member and wants to collaborate with a higher amount of money to fund Bitcoin Chile activities. It is also possible to sign up as an individual and become a donor in this category.
The names of these categories are in figurative sense, members are not real nodes who take part in a Blockchain.
What are all the benefits for Members?
These are the benefits for the year 2020.
Can I become a Member without paying for the membership fee?
Every person or company that wishes to join and become a member for the first time, must pay for the annual membership fee, no exceptions.
Those who registered under the Complete Node Member category, once active, will have the chance to make work contributions or any other kind of collaboration (non-monetary). These contributions will be valued and depending on the contribution made, the Member will be partial or completely exempt from paying the membership fee for the next annual renewal.
The type of contribution a member can do depends only on their abilities, knowledge and experience that could help support the goal of Bitcoin Chile NGO and their activities. Moreover, one cannot be exempt from paying for simply promising to do something in the future. In other words, collaborative work must be done in a successful manner to receive benefits and be exempt from future membership renewals.
I am a Company / Start Up, can I become a Member?
Yes! The category you're looking for is called Company Node Member. Once registering, you have to complete both your personal information and the information of the company you represent.
It is not necessary for your company to be directly related to the cryptotechnology industry. Every organization that wishes to support us is welcome onboard, upon approval of our board of directors.

If you are StartUp, you'll have 50% OFF on the annual membership. The requirements for Start Up are:
2 years or less since the beginning of your commercial activities.

Annual income being less than $80,000,000 CLP ($100,000 USD)
If you meet these requirements, send us your company deed (or commercial activities certificate where we can check the date you started your operations) and annual income statement to [email protected]
Do you financially administrate a Members fund?
No. Our goal is to teach and spread knowledge about cryptotechnologies, fund management is not part of our organization's functions.
If Bitcoin Chile is a non-profit organization, why the membership requires payment and how do you use the funds?
Short answer: as an organization we must cover our costs and expenses, memberships fee is a way to fund what we do.
Long answer: When an organization is non-profitable, it means that the profits are reinvested for it to keep growing, which means there's no withdrawal of profits. Associations and foundations in general use to charge for a social fee so the individual can be considered an active Member. In this case, we charge for an annual membership fee, which cost is justified alongside the benefits each member has.
Finally, all the money raised through social fee, companies sponsors, donations and merchandising sales is used to fund our activities, events, pay cowork rent, association management (accounting, back office, etc) and to keep growing as an organization, teach others and spread the word about cryptotechnologies across Chile.
In summary, profits are reinvested on the organization to cover costs and fund activities, which benefits the members themselves, the community and ultimately the society through spreading the word about cryptotechnologies.
If I sign up as "Observer Node" Member, can I switch to "Complete Node" Member later?
Yes! If you are a beginner, you can sing up as Observer Node Member paying the annual membership and switch to Complete Node Member in the next renewal. You must consider that you will have to prove your knowledge on cryptotechnologies to be validated as a Complete Node Member. You will have time to learn about everything you may need until the membership renewal. You can also check our beginners guide "Learn how to use Bitcoin in 4 steps" (in Spanish only), watching videos on our YouTube Channel, coming to the meetings or registering in one of CryptoTek Academy's courses.

I have more questions, how can I reach you?